Domaine du Pradeau
43300 LANGEAC
Tél. 04 71 77 05 01
Visit our campsite
Click here
Rentals
Mobile home, Wooden or mobile chalets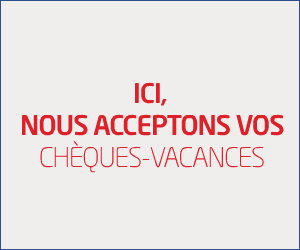 Discount applicable only per package rate
​
Payment Methods
Credit card (VISA, MASTERCAD, MAESTRO, DISTANT SELLING)
Cheques, holidays cheques, cash
General conditions and cancellation insurance
General conditions
1 - The rental is done on a strictly personal basis; under no circumstances may the tenant sublet, nor assign his rights to the present contract without the consent of the management. A confirmation will be sent to you as soon as we receive the corresponding request and deposit.
2 - The rentals take effect from Saturday at 04.00 PM to Saturday 10.00 AM. The tenants are advised to inform the reception the evening before their departure about their departure time.
3 - Any late arrival or early departure will not be at the charged of the campsite.
4 - The tenant is committed to take possession of the premises that are put at his disposal by the contract. In case of no show, both the deposit (25% of the total amount of the stay) and the balance (75% of the amount of the stay) will be retained by the campsite, unless something unexpected and serious has come up; in such a case the management has the right to decide, if advised at least, one month beforehand.
5 – During his/her stay, the tenant must comply with the campsite rules. These internal regulations will be displayed at the entrance of the campsite.
6 - The booking of a camping pitch must be made for no less than 8 days minimum.
7 – For the rentals, a cheque of 120 € and 30 € in cash is requested as a deposit when you are handed the keys. You will have it returned upon departure once the final checking of the premises and the inventory are done.
8 - For the groups whether in a campsite or in a gîte (a holiday home) a 150 € deposit is required.
Cancellation
All reservations with an outstanding balance that do not comply with the reservation conditions will be cancelled and the paid fees will be retained. All cancellations must be done in writing.
Cancellation insurance
A cancellation / interruption insurance of a stay can be subscribed at the CampezCouvert group, which will allow you to have the amount of the stay refunded in case of a cancellation, according to the general and particular conditions of the insurance contract.
Cancellation premium: 2.7 % of the total amount, reservation fees excluded, of the stay all taxes included.
To subscribe, please, tick the relevant box at the bottom of the reservation form. You will then receive a subscription form which you must send back with the payment separately from your reservation.